Nursing job boards are an inevitable part of the job searching process for any clinician. While it may seem like creating a profile on a job board is like throwing your resume into the ether, you'd be surprised to know that recruiters thoroughly scour these boards in search of candidates to place in contract jobs. So, we asked the recruiters at Premier what they look for when looking for clinicians on a nursing job board and what you can do to make your profile stand out.
Make Sure Your Resume is Up-To-Date
Premier recruiter Brianna says that "an updated resume with a specific description or list of duties, highlighting unique experience" is what makes a clinician stand out on a nursing job board. Sarah notes: "so often we see clinicians upload resumes that are from a year or more ago and it can make the process take longer for the recruiter and clinician because we have to stop and update those." Director of Recruitment, Russ, also mentions the importance of identifying any gaps of employment on your resume: "Whether you're backpacking across Europe or staying at home with the kids… if you have a gap, list what you were doing instead of leaving it up to the reader." For more nursing resume tips, head to this blog post.
Make Your Availability Crystal Clear
Having your availability and desired start date clearly visible to the recruiter is a great way to get noticed on a nursing job board. Premier recruiter Sarah says that "having available start dates and any requested time off noted on their job board profile helps recruiters prioritize those that are looking to start right away, in one month, so on and so forth." It is important to make clear whether you are actively looking for a position ASAP or casually looking ahead for your next role in a few months, so your recruiter has a good idea of your timeline.
Tell Your Story
A great piece of advice for setting up your nursing job board profile is to ensure your resume reads like a story. Russ, Premier's Director of Recruitment advises: "Be deliberate in your storytelling. Elaborate on what successes or experiences one role offered that propelled you into the next one." Make your profile personal to you by including pieces of information that separate you from the other clinicians. Hannah says: "Something that stands out for me is when clinicians talk about what motivates them to travel. Travel contracts are typically only 3 days a week. I like to know what the clinician does the other 4 days a week and why they choose to travel." This will help whoever is reading your profile understand the full picture of who you are as a job candidate.
Always Upload Your Licenses and Other Credentials
One of the top traps that many applicants fall into is forgetting to include their licensure or other documents when submitting their information to a nursing job board. Lauren K. mentions that "licenses in other locations or a compact license" are key to include in a job board profile, especially if you are looking for a travel nursing contract. Having all your documents readily accessible by a recruiter is what really makes you stand out on a nursing job board. Recruiter Leigh says: "Have as much stuff uploaded as possible. This includes your vaccine cards, certifications, and licenses. We always look for a nurse's license when looking at candidates."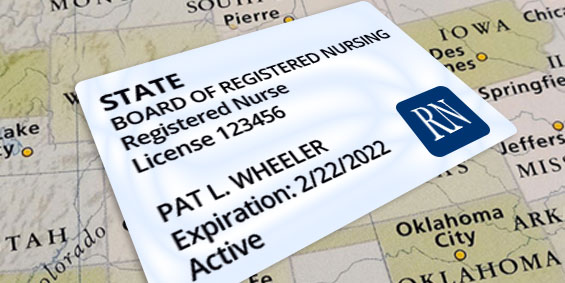 Be Flexible and Responsive
Two "soft skills" that are extremely important to keep in mind when using a nursing job board are flexibility and responsiveness. Lauren P. says: "I'd have to say something that really stands out to me if someone who is flexible and shows that from the start!" Cailey adds, "quick responses are a great way to get noticed by a recruiter."
Want to get connected with a healthcare recruiter? Look no further! Apply with Premier here: